How to Correctly Connect The Welding Rod With the DC Welding Machine?
08. 31, 2021
There are two methods of DC welding: positive and reverse, depending on the needs of the workpiece. The positive connection means that the workpiece is connected to the positive electrode, and the welding tob (electrode) is connected to the negative electrode. The reverse connection is the reverse. Which pole is connected to judge?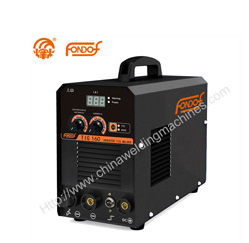 DC Welding Machine
1. If the workpiece to be welded is compared, it is not easy for the workpiece to melt, that is, the penetration depth is relatively large, and the welding rod melts slowly, so it is necessary to connect the workpiece to the positive electrode, so that the temperature of the positive electrode area is high, which is easy to promote the workpiece melt.
2. If it is a relatively thin steel plate, or stainless steel and non-ferrous metals, heat-sensitive metals, semi-cold welding of cast iron, surfacing welding and alkaline welding electrodes, connect the welding rod (electrode) to the positive electrode at this time, and the welding electrode will melt. It is faster, and the penetration depth of the workpiece itself is relatively small, so the arc is stable and the so-called hydrogen hole will not be generated.
3. For ZX and AX series DC arc welding machines, reverse connection is generally used.
4. For DC tungsten argon arc welding and plasma arc welding, or plasma cutting equipment, use the positive electrode method.
5. For the E4304 electrode, is acidic, and the positive electrode can be reversed.
6. For alkaline electrodes such as E5015, they must be reversed, otherwise it is not easy to operate. If the alkaline electrode is used for positive connection, the arc will burn unstable and the splash will be loud. At the same time, the sound is very loud and it is easy to have pores. In addition, submerged arc welding also requires the practice of Sister Fan.
7. For welding steel or brass, use tungsten argon arc welding. The positive connection is generally used. After all, the negative electrode generates less heat, so that the tungsten electrode is not easy to overheat, and the tungsten electrode has better overcurrent and long life. Moreover, the workpiece is connected to the positive electrode, and the productivity is high, because the penetration depth is large, and the tungsten electrode is connected to the negative electrode, so that thermionic heating capacity is strong, the arc is concentrated and stable, and the welding effect is very good.
Our company also has DC Welding Machine on sale, welcome to contact us.

Anterior: What is Plasma Cutting?

Próximo: A Guide for the Maintenance of Welding Machine